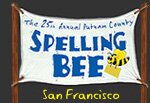 History Lesson -
The 25th Annual Putnam County Spelling Bee started as a sketch titled C-R-E-P-U-S-C-U-L-E done by the improvisational group, "The Farm". The sketch followed six nerdy kids in a spelling bee and featured audience participation. One of the performers in the sketch, Sarah Saltzberg, happened to be the nanny of playwright Wendy Wasserstein (The Heidi Chronicles). Wasserstein was impressed by the sketch and suggested to friend William Finn (Falsettos) that he may be able to take the act to the next level. Finn, his former student Rachel Sheinkin, and C-R-E-P-U-S-C-U-L-E creator Rebecca Feldman worked together to turn the piece into a full-length show.

In the winter of 2004, the show was workshopped at Barrington Stages in Sheffield, Massachusetts. It was done in a cafeteria turned theatre. The kitchen that was connected to the space had signs such as "No Name Calling!" and "No Spitting!" that helped to bring the show's youthful feel to life (and would be recreated on the Broadway stage).

From there, Spelling Bee moved to Second Stage where it quickly sold out its original stay and was extended due to glowing reviews and powerful word of mouth. The show broke Second Stage records and moved to Broadway's Circle in the Square on April 15, 2005 with an official opening on May 2nd. The show has received critical acclaim both on and off-Broadway, and won two 2005 Tony Awards for Best Book of a Musical and Best Featured Actor.
©2005-2006, The 25th Annual Putnam County Spelling Bee